Let Ben Franklin entertain your next event, meeting, or fundraiser.

Your next historical event will be "brought to life" with a visit from one of America's Founding Fathers.

Your guests and visitors will learn about:
* Ben's experiments involving lightning and electricity
* His inventions like the lightning rod and bifocals
* His involvement with Silence Dogood and Richard Saunders
* His proverbs from Poor Richard's Almanack
* His success as a businessman
(did you know he established one of the earliest franchise systems?)
* How he retired at the age of 42 to devote his life to scientific pursuits
* His involvement with Congress in drafting the Declaration of Independence
(thus sparking the American Revolution) and the formation of the new
United States of America

And other interesting, amusing and informative aspects from his life.

As Dr. Franklin, Jack Sherry will speak to your visitors on a one-to-one basis,
give a presentation talk, or take part in a performance with other historic figures.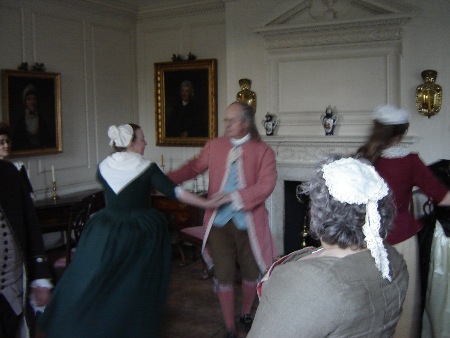 Dr. Franklin Dancing at Van Cortlandt House Museum, Bronx, NY